Eric Anderson
---
[one_half]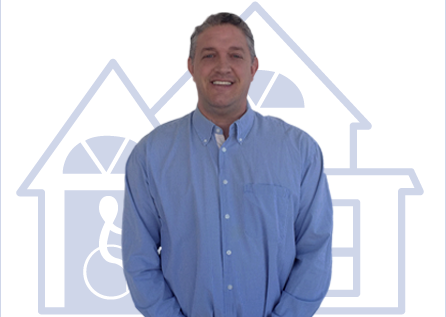 Contact Eric
[/one_half][one_half_last]
Eric Anderson's road to AHS began in 1996, when he founded Allied Rehab Services in Baltimore, MD, a company that focused on subcontracting staff to home health agencies. Allied Rehab grew quickly, employing 43 physical therapists, occupational therapists, and speech and language pathologists within two years. In 1998, Eric founded a durable medical equipment and supplies company to complement the services offered through Allied Rehab. USA Rehab, a Medicare-accredited company, continues to specialize in mobility, accessibility, and assistive technology, as well as accessible housing remodeling throughout Greater Baltimore.
Eric witnessed first-hand that physical impairments confined individuals, making them prisoners in their own homes. Built with multiple steps, narrow halls and doorways, inaccessible bathrooms, and sunken rooms, most homes presented insurmountable challenges to independence and self-sufficiency. This became the impetus behind his passion for Universal Design, real estate and construction. He studied professionally, learning the skills needed to change the confinement suffered by those with physical limitations. He earned Maryland licenses in real estate appraising and sales and is a licensed building contractor, specializing in accessible housing.
Eric integrated this expertise to establish Accessible Housing Services (AHS). Since 2006, Eric has provided residential accessibility consultation services to individuals in need of modification and the professionals who facilitate them. His experience, knowledge, and objectivity have enabled him to restore independence and improve the quality of life to thousands of individuals.
Eric serves as a legal expert in the field of wheelchair accessible housing. Drawing on his wealth of experience and education, he provides authoritative evidence regarding accessibility issues, accommodation requirements, and acquisition and remediation costs for suitable housing necessitated by accidental injuries or medical malpractice. His testimony has been provided on behalf of plaintiffs and defendants, individuals and corporations.
Though Eric dedicates all of his professional time to AHS, he often serves as a contractor, directing accessible and universal design remodeling projects. Working hands-on, as he often does to the surprise of his clients and professional peers, keeps his consulting skills honed and focused. The field experience gives him greater insight when designing modifications. In Baltimore in 2005, Eric purchased a house and created a Universal Design model home. Eric incorporated more than 70 accessible and universal design features in the remodeling project, resulting in a barrier-free living environment. The house won the accolades of builders and accessibility advocates and was featured in national magazines, newspapers, television shows, and talk shows.
[/one_half_last]